Nuestro Equipo
Pastor Jorge Luis Espinoza Perez, Desarrollador de Misión/Mission Developer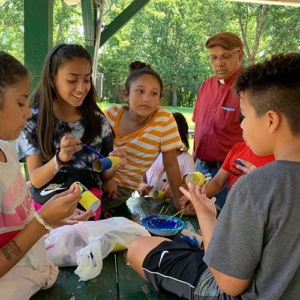 Pastor Jorge Espinoza es de Nicaragua. Sirvió en una orden religiosa franciscana durante 13 años sirviendo en misiones en América Central. Asistió al seminario en Costa Rica. Después de abandonar la Iglesia Católica, Pastor Jorge fue presentado a la Iglesia Luterana en Costa Rica por su hermano, quien se desempeñó como pastor luterano. Le encantaba que la iglesia proclamara la gracia de Dios y trabajara al margen, por lo que también se convirtió en pastor luterano. Pastor Jorge sirvió en dos congregaciones luteranas rurales de inmigrantes nicaragüenses en las plantaciones de banano. Alli fue donde conoció a la Pastora Stephanie y se casaron en el campamento de la iglesia en la selva tropical. Pastora Stephanie y el Pastor Jorge se mudaron a los Estados Unidos y sirvieron juntos a una congregación bilingüe en Illinois. Luego se mudaron a Colorado, donde Pastor Jorge comenzó una nueva iglesia latina.
Pastora Stephanie y Pastor Jorge tienen dos hijos, Simon y Scarlett. Viven en una granja de 140 acres que se está convirtiendo en un centro de naturaleza. ¡Les encanta ir de excursión, buscar frutas salvajes y cuidar de todos los animales de Dios!
Pastor Jorge Espinoza is from Nicaragua. He served in a Franciscan religious order for 13 years serving missions across Central America. He attended seminary in Costa Rica. After leaving the Catholic Church, Pastor Jorge was introduced to the Lutheran Church in Costa Rica by his brother who served as a Lutheran pastor. He loved that the church proclaimed God's grace and worked at the margins, so he also become a Lutheran pastor. Pastor Jorge served two rural Lutheran congregations of Nicaraguan immigrants in the banana plantations. This is where he met Pastor Stephanie and they married at the church camp in the rainforest.
Pastor Stephanie and Pastor Jorge then moved to the United States and served a bilingual congregation together in Illinois. Then they moved to Colorado, where Pastor Jorge started a new Latino church.
Pastor Stephanie and Pastor Jorge have two children, Simon and Scarlett. They live on a 140 acre farm that is being developed into a nature center. They love to go on hikes, look for berries and care for all God's critters!
Pastor Stephanie Espinoza, Soporte Administrativo/Administrative Support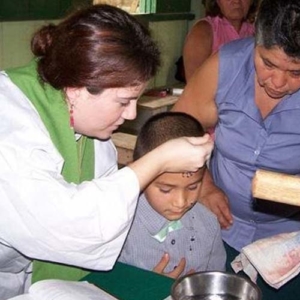 Pastora Stephanie Espinoza es originaria de Minnesota. Antes de regresar a su estado natal, viajó por el mundo y ama a la comunidad global. Después de la secundaria, fue estudiante de intercambio en Francia. Luego fue a Augsburg College en Minneapolis y estudió en el extranjero en Tailandia. Se graduó con una licenciatura en Ministerio de Juventud y Familia.
Pastora Stephanie fue al seminario de la Escuela Luterana de Teología en Chicago. La mejor experiencia de su vida fue su pasantía en un seminario de un año en Nome, Alaska. Ella tiene un profundo amor por los nativos de Alaska y su profunda fe.
Su primera llamada fue a través de la Misión Global ELCA. Primero fue a Guatemala a estudiar español y luego pasó cuatro años en Guapiles, Costa Rica. En Guapiles, Pastora Stephanie comenzó una nueva comunidad de fe de muchos niños y jóvenes. También sirvió como pastora de otras cuatro congregaciones dentro de las plantaciones rurales de banano y piña. Pastora Stephanie conoció a su esposo, el pastor Jorge Espinoza, en Costa Rica.
Pastora Stephanie ha servido en congregaciones bilingües en los Estados Unidos y como asistente del obispo. Pastora Stephanie recientemente completó su maestría en administración de empresas. Ella es la pastora de Cross of Peace Lutheran Church, pero le encanta compartir mucho tiempo con Cristo Obrero.
Pastor Stephanie Espinoza is a Minnesota native. Prior to returning to her home state, she traveled the world and has a love for the global community. After high school, she was an exchange student in France. Then went to Augsburg College in Minneapolis and studied abroad in Thailand. She graduated with a BA in Youth and Family Ministry.
Pastor Stephanie went to seminary at the Lutheran School of Theology at Chicago. The best experience of her life was her yearlong seminary internship in Nome, Alaska. She has a deep love for the Alaska Native people and their tremendous faith.
Her first call was through ELCA Global Mission. She first went to Guatemala to study Spanish and then spent four years in Guapiles, Costa Rica. In Guapiles, Pastor Stephanie started a new faith community of many children and youth. She also served as pastor to four other congregation within rural banana and pineapple plantations. Pastor Stephanie met her husband, Pastor Jorge Espinoza, in Costa Rica.
Pastor Stephanie has served bilingual congregations in the United States and as an Assistant to the Bishop. Pastor Stephanie recently completed her masters in business administration. She is a pastor at Cross of Peace Lutheran Church, but loves to spend time with Cristo Obrero.